Why CHEMIS Plastic Screw?
Global Trends PA → PC Screw
We would like to recommend PC screw instead of PA screw in case you don't want to have deformation due to "temperature" and "humidity".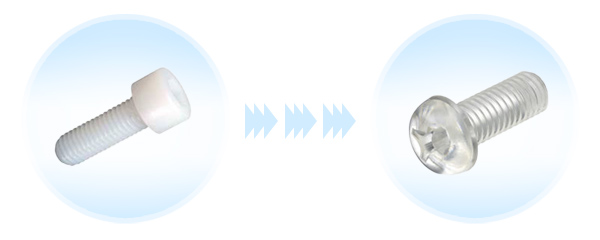 1 : PC>PA precision-wise
PA is more changeable due to "temperature" and "humidity"

2 : Comparison between PC and PA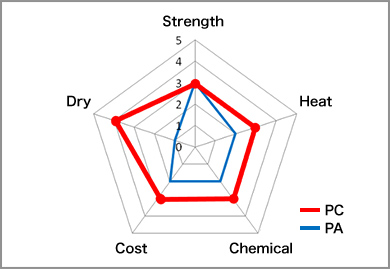 PC Screw specification
Continuous use temperature
115℃
Flammability
UL94 V-2
Features
Insulation and drying resistance
Use
Light electrical appliance / Appearance parts
Gears, bearings, door rollers, pipes, clothing,
synthetic fibers, Abrasion resistant products
PA Screw specification
As is well known
3 : Japanese Market of CHEMIS PC screw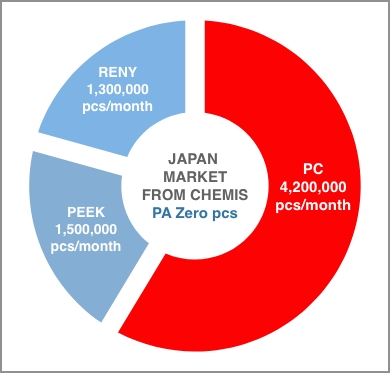 It has been about 50 years since CHEMIS started manufacturing PC screws.
CHEMIS was well aware of the weaknesses of PA and hence has not started manufacturing PA screws. Even now, PA Screw is not manufactured by them.
The graph shows the monthly sales volume of PC screws in the Japanese market of CHEMIS.
Note) Although PA screws have the majority to be used in the world, PC screws are gradually being used in place of PA screws. The reason is better accuracy.

We recommend CHEMIS Plastic Screw
instead of PA (Nylon) Plastic Screw.
Contact Us for
List of properties by material
Mechanical characteristics